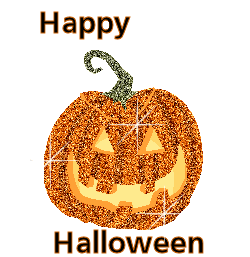 Tonight all the ghouls and boys will be out!! I am volunteering at Emmy's school because she has been Star Student the last 7 days. That means she has been line leader, snack helper, etc. for a week, and I was asked to come in and read a story to the class after the "Pumpkin Party" they are having today. Since we live in a Politically Correct world these days, the kids are not allowed to wear costumes to school, which I think is a shame, because honestly, MOST KIDS, don't understand the religious background of Halloween, so why should they suffer? GIMME A BREAK!!
Besides, this is NEW ENGLAND!! WE HAVE WITCHES HERE!! Seriously, there are a lot of Wiccans here, and guess what? THIER HOLIDAY IS BEING SUPPRESSED!!! If I were wiccan I'd be protesting all over that bloody school. As it is I am seriously considering showing up in costume. I can claim I am a witch and today is a holiday, so I am dressing up...technically, they can't disallow ME, as an adult, the right to freely express my religion.....but..it would be a lie, so that's the only reason I won't...but it does burn me up in the gut, lemme tell you!
ANYWAY...I've got 200 popcorn balls, 4 bags of candy and ZB will be bringing about 500 pieces herself to pass out while I take the girls around trick or treating. After about a block or two, I will bring Kaity home, and ZB will take Emmy out for some more houses. It will be a fun night, and the weather is not too cold, thank the good lord, my cloak over my Medievil garb should be plenty....
I hope you all have a great night, and HAPPY HALLOWEEN!!!